Let's Make Nasi Goreng!
In Indonesian, Nasi means "rice" and Goreng means "fried". So if you weren't already familiar with this dish, it's Indonesian Fried Rice!

This is a fun and healthy dish to cook it as it is so simple and allows you to sneak a heap of veggies in with this dish - in a way that the whole family will love.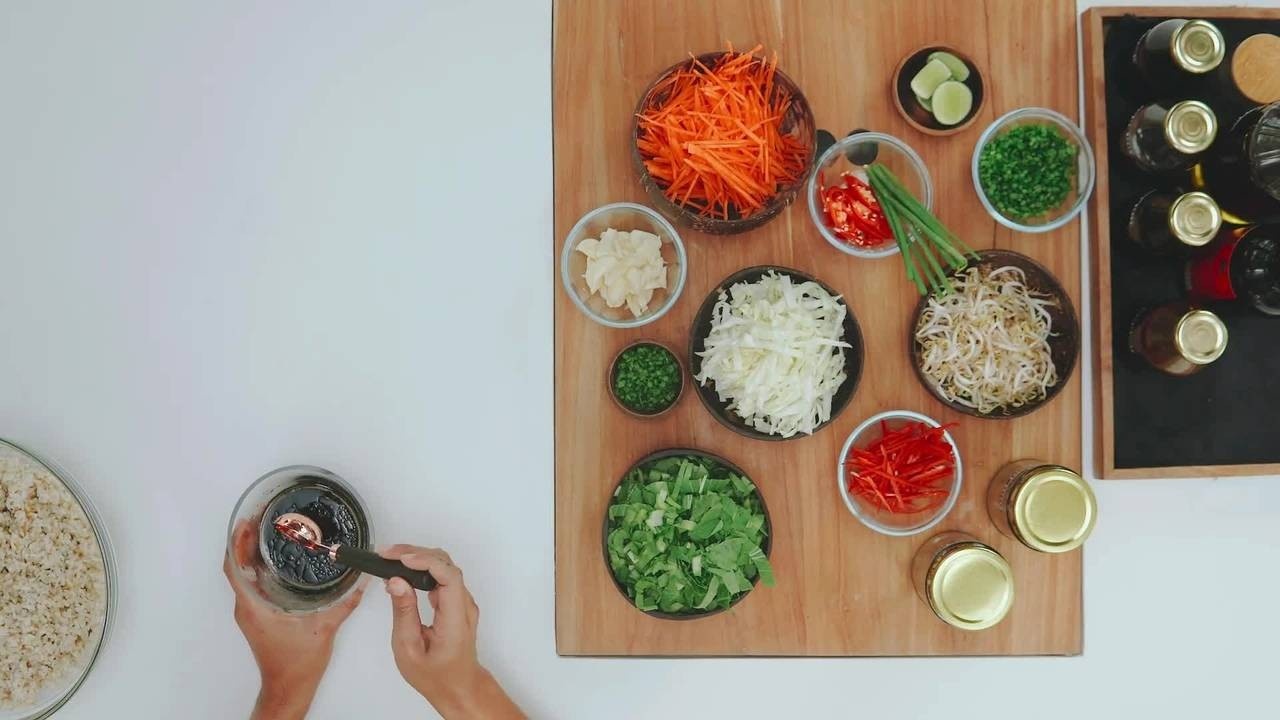 Ingredients
FRIED RICE
2 cups brown rice

3 tbsp vegetable oil

2 tbsp coconut oil

3 bok choy, sliced

1/2 cup bean sprouts

1 cup white cabbage, sliced

1 carrot, cut into thin match sticks

2 big chillis, seeds removed and sliced

6 garlic cloves, sliced

2 green onions, sliced

1/2 tsp pepper

1 tsp veggie stock powder
SAUCE
1 teaspoon sesame oil

2 tablespoons soy sauce

2 tablespoons sweet soy sauce

2 teaspoons vegetarian oyster sauce
GARNISH
1/4 cup fried shallots, for garnish

chilli flakes to garnish

spring onions for garnish

lime wedges for garnish
Method
Cook your rice according to the packet instructions. If possible cook your rice the day before and leave it in the refrigerator overnight. This will help dry out your rice and give your fried rice a good texture.


Add the sauce mixture to your rice, mix well and set aside.


In a wok or a large pan heat the coconut oil over medium-high heat. Add in the garlic and sauté for 2 minutes.

Add in the bok choy, carrots, cabbage, chilli and green onions.

Sauté for 3 minutes or until the vegetables start to wilt.

Add in the veggie stock and continue to cook.

Add in the bean sprouts and rice, and stir well so that the vegetables and sauce are evenly spread throughout the rice.

Season with salt or pepper. Stir well.


Garnish with fried shallots, spring onion, chilli flakes and a lime wedge.
Love this recipe?
We've tasted our way through thousands of recipes, to bring you the best plant-based recipes from all over the world.

These recipes are proven winners that everyone will love.

More than just recipes, we'll improve your cooking skills and teach you the fundamentals, from flavor to culinary skills, food styling to food preparation, storage and so much more!

We've made things easy for you. With our video how-to-guides, mobile app, shopping lists, ebooks and recipe cards.

Our promise - This isn't going to complicate things in the kitchen.